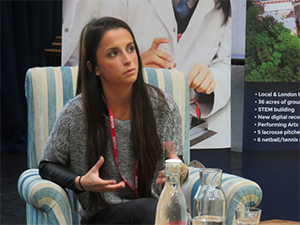 …of ways to improve Mental & Physical Health. On Monday our first guest Nicole Crowther, whose life was irrevocably altered because of a tweet, flew over from America to speak at Heathfield about the pitfalls of Social Media. Nicole's talk stressed the importance of thinking carefully about what we post online. Nicole's visit generated local and national media interest including The Sunday Times and The Daily Telegraph.
Tuesday focused on Emotional Literacy, Self-Care and Positive Steps with our speaker, the inspirational Lady Jane Nathan, a clinical medical research scientist. Drawing on real life cases, she spoke about the impact social media has on a young person's mental health.
A number of workshops were offered to girls and staff, giving everyone the opportunity to try out different practical methods to help maintain positive mental health. Professional instructors offered a range of activities from Self Defence to meditation, laughter therapy, yoga and reflection in the Chapel.  This allowed girls to identify what they found most conducive to their personal well-being.