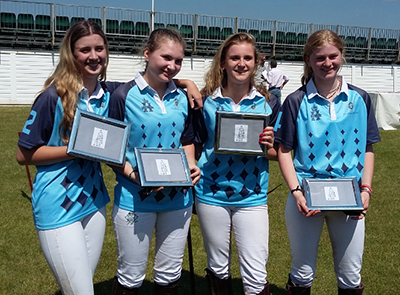 Today the Heathfield polo team were amazing, they arrived on the Guards ground ready for action.  This was our first opportunity to play at the world famous Guards Polo Club in the inter-schools Copenhagen Cup Challenge.
We were the only all-girl team entered into the tournament and also the ONLY girls playing in the 9 team event.
Heathfield players Angelina, Kitty, Victoria and Kiki played incredibly well together. We drew 3-3 against Rugby and then won 3-1 against Radley, making us the overall winners of our division of the Copenhagen Challenge.
Thank you players and parents for your dedication and support on such an exciting landmark day.  Thank you Guards for including Heathfield in this fantastic tournament!